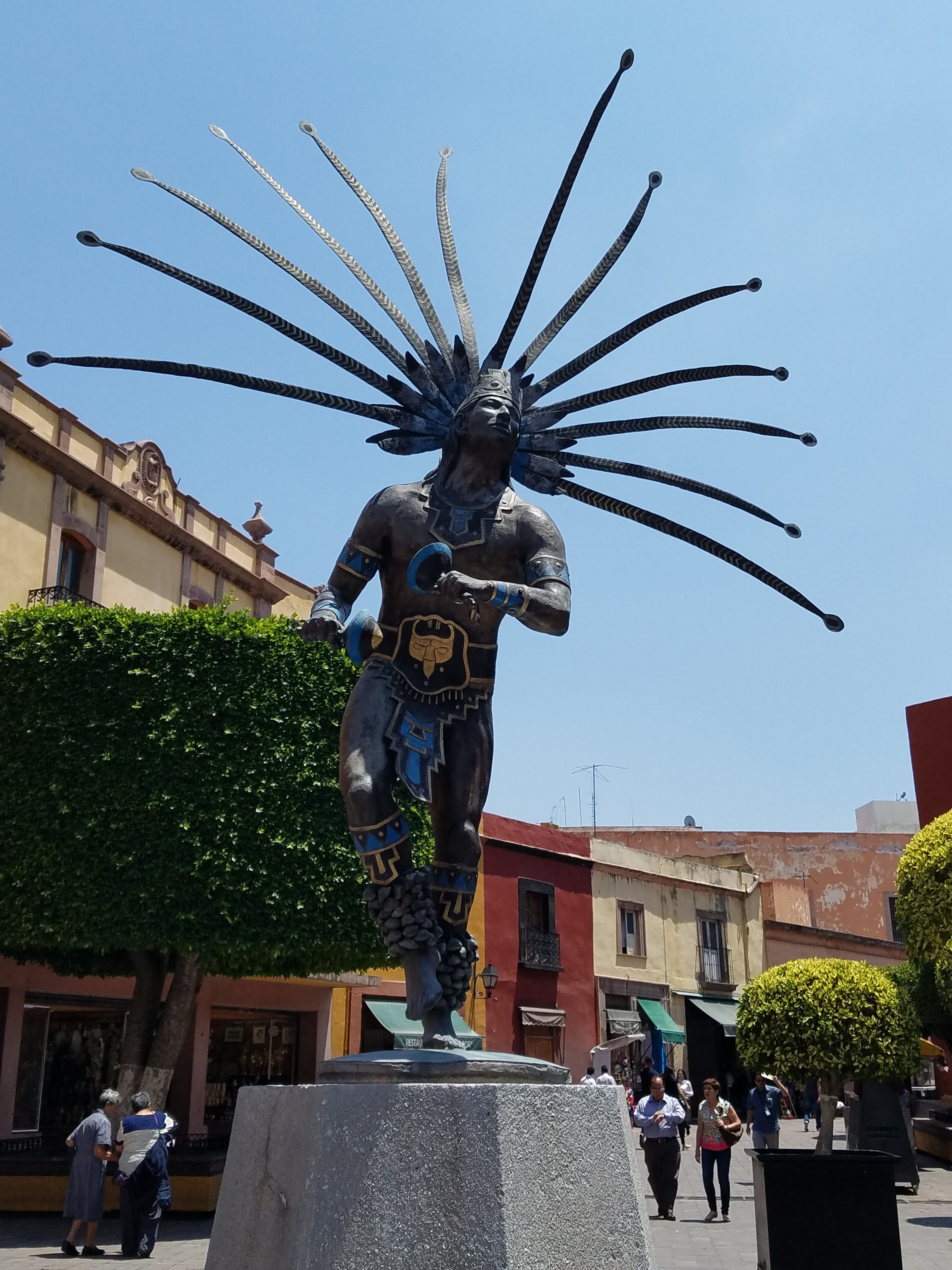 An Afternoon in Centro Histórico Queretaro
Our plan for the day was very flexible. We would head down to the Centro Histórico of Queretaro, go to the bank, and finish at the Mercado. The stuff in between we would fill in as we go. We shopped more than we should have, discovered a new courtyard, and had a delicious lunch at San Miguelito on Calle 5 de Mayo. Just your typical average day in Centro Histórico.
Shopping
We parked near the mercado, then walked the few blocks into the Centro Histórico. Passing a soccer jersey shop on the way, we stopped in to buy Tom a local team jersey for Queretaro Gallos and me a child's national Mexican team jersey. The price for each jersey was $10 or less.
After getting some money from the Santander ATM by Jardin Zenea, we walked down Andador Libertad where Casa de la Marquesa is located.  There's a little shop called Madre Tierra that specializes in soaps, spices and goods by local artists from the states of Queretaro and Guanajuato.  I love the T-shirt designs from Especies. This is a great store for unique souvenirs.
Sights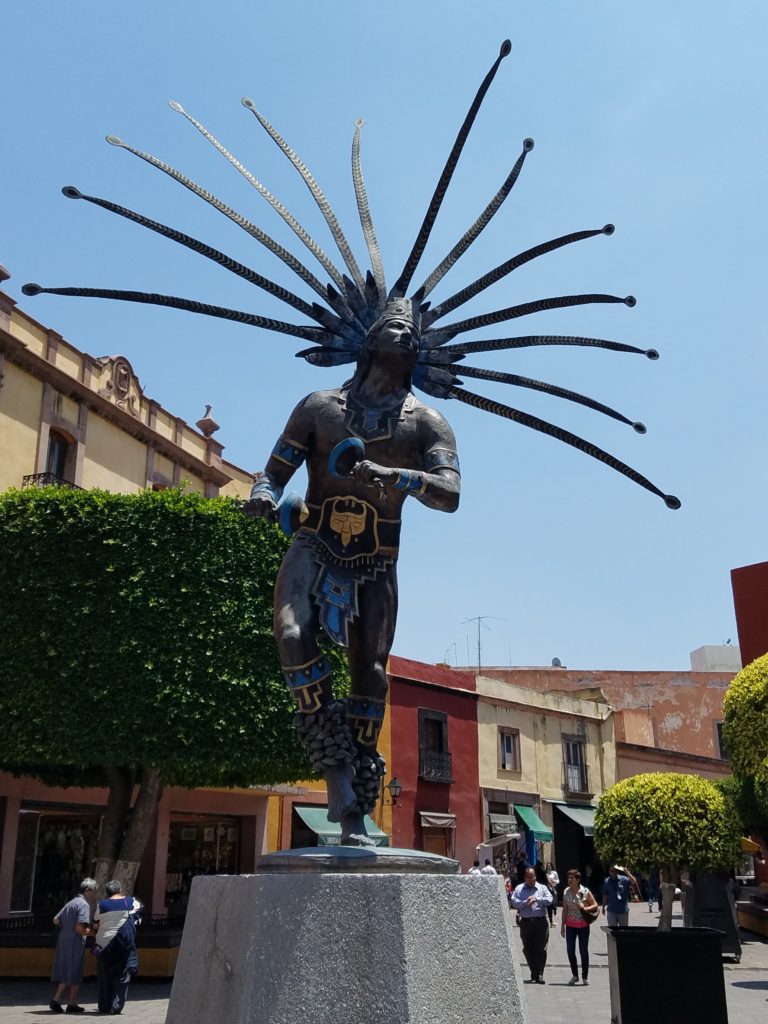 On the other side of the Jardin Zenea by the Templo de San Francisco is Calle 5 de Mayo.   A beautiful statue of a native dancer El Danzante conchero chichimeca marks the beginning of this walking street that leads to the Plaza de Armas. Shops and restaurants line the walkway up to the State Government Office and Plaza. The Museum de los  Conspiradores and my favorite chocolate shop La Fabrica de Chocolate are on this street.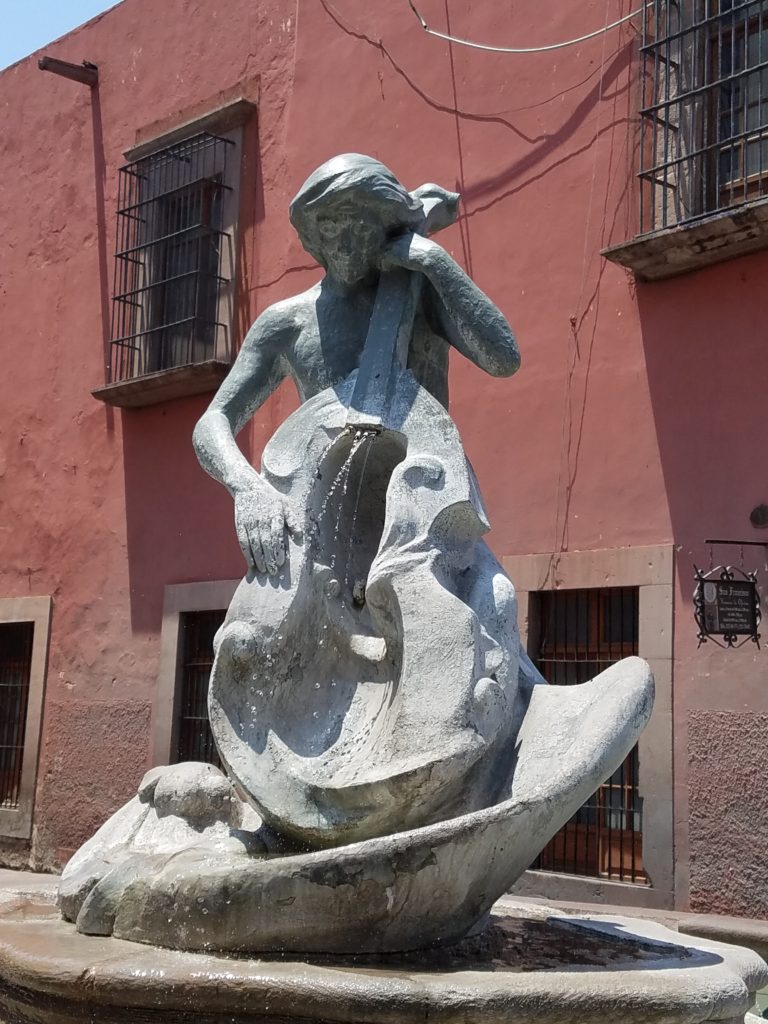 Fountains are sprinkled throughout the historical area, and this one of a woman playing a cello is one of my favorites.
A courtyard caught our eyes as we were waiting for Restaurant San Miguelito to open. The stone carvings, tile and beautiful wrought iron were too enticing to resist. I wandered in but was quickly stopped by a woman who told me politely this was a "Casa Particular" (Private House). I apologized and left. It was then that Tom saw the little sign that said it was the courtyard to the State Secretary of Queretaro.
Lunch at Restaurant San Miguelito
Restaurant San Miguelito is overloaded with "Mexican charm". Large paintings of people in Mexican dress hang on the walls, tin stars glisten from the ceiling, beautiful tiles cover almost every available surface, and painted plates pose on the wooden tables waiting for their guests. San Miguelito offers Mexican cuisine from all over the country.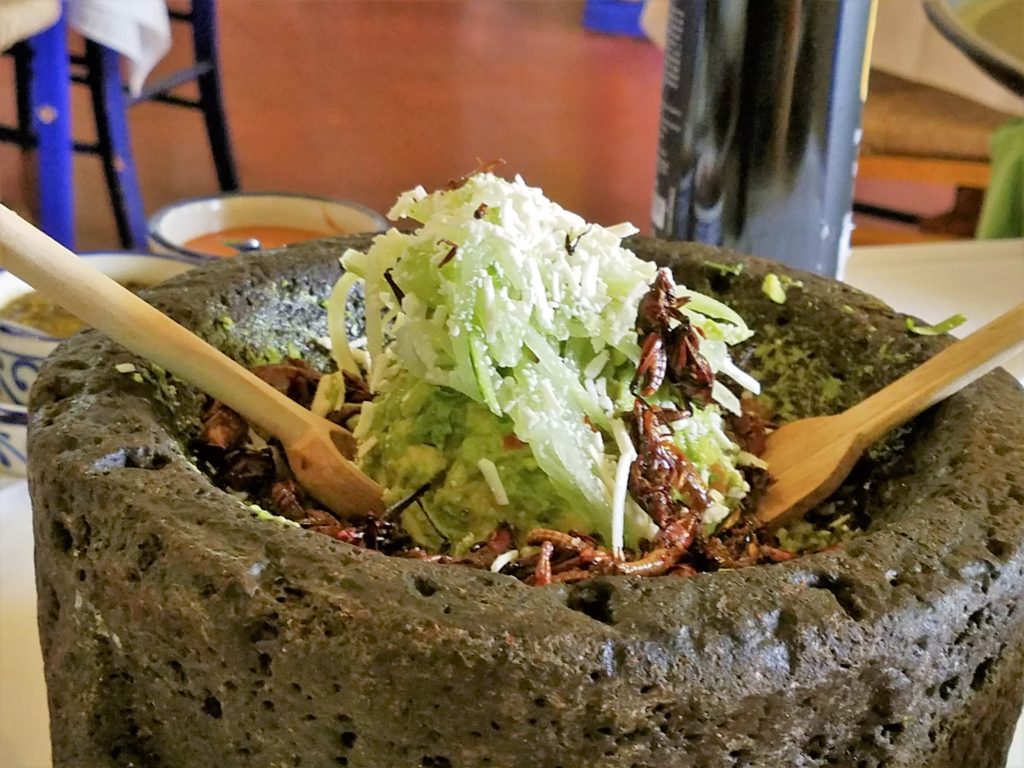 We had Oaxacan guacamole with grasshoppers made table side. (When you wrap them up in a tortilla with the guacamole, you really don't know you are eating bugs.)
I had the mole tamarindo (again from the south) made with chocolate and served with chicken. It tasted like a very thick hot chocolate with spices.
Tom had the pozole rojo with pork, a light broth with just a hint of heat.
Completely full, we headed back towards Mercado "La Cruz" with a quick stop at the honey store Miel. At the Mercado, we bought what we needed  for tonight's dinner of guacamole and a few mangos for dessert.
It's nice not to always have an agenda, and really have a chance to explore all that the city has to offer. This was just a small area in the Centro Histórico. There's still plenty of more shops, restaurants and colonial wonders to discover.
Like and Share With Your Friends: